The self-proclaimed numero uno of Dhallywood has had an impact so strong in the industry, that it has secured him the title of the 'undisputed' champion in the business. We are talking about none other than the famous Shakib Khan. From his debut in "Anonto Bhalobasha" in 1999, which did not prove to be much of a success, the king of Dhallywood has come a long way, starring in his latest super hit "Shikari", reigning over the box office. Amidst his long career span, he was won two National Film Awards for Best Actor along with various other awards. His skills are not only bound by acting, which is why he has taken on the task of production, under his very own banner, titled SK Films. The Showbiz team had the opportunity to meet with the ever-so-busy king of Dhallywood, and we are proud to present to our readers the exclusive conversation we had with him.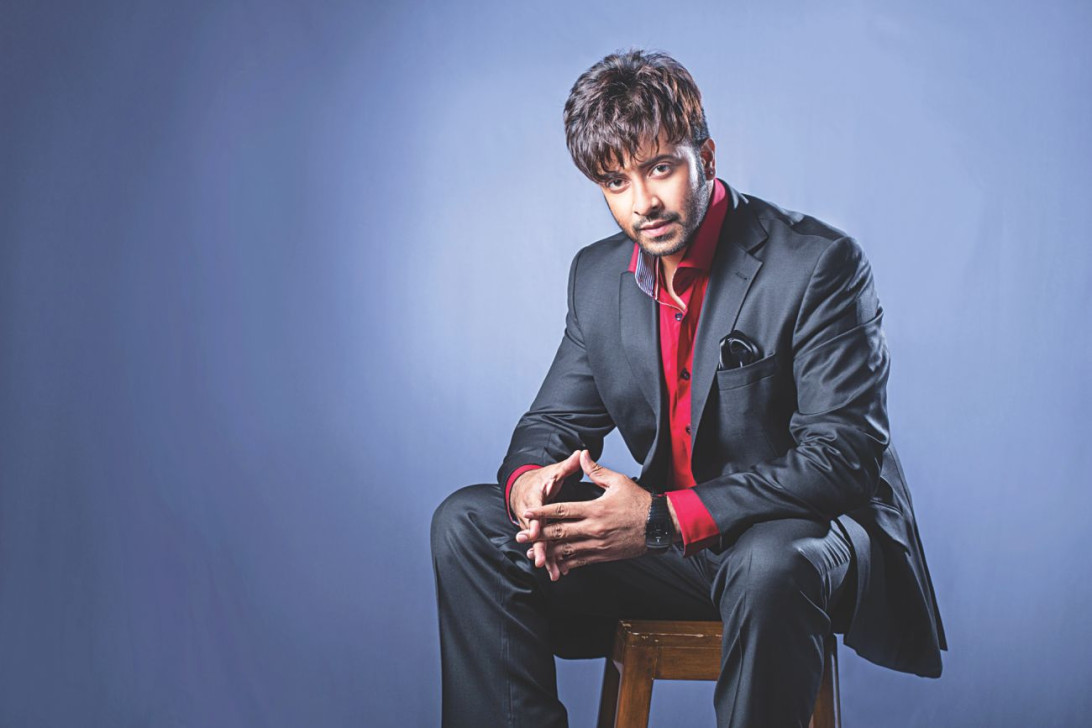 This Eid, you had three films released, "Shikari", "SAMRAAT" and "Mental". What are your thoughts about them?
All three of the films are unique in their own sense and have altered storylines. Those who love me and are fans of Bangla cinema have definitely watched the trio. They are all big budget films and it's a treat for your senses, with the melodious tracks and the picturesque cinematography. The songs have got millions of views online. This Eid will surely remain a very memorable one for me.
With such a packed schedule, did the workload take a toll on you?
It's been quite a while that I've been shouldering the heavy work pressure, it comes along with the job. I have had multiple releases at the same time in the past as well. However, I would prefer one film to be released during the festive season so that it would run in as many theatres as possible. That way, it will also become easier for me to promote the film in a diverse manner. However, I'm rather hopeful for the new releases.
Your new film "Shikari" has a unique touch to it, so does your appearance in the film. How promising do you reckon it is?
I have been preparing myself for this for quite some time now. I have decided to reduce the "bulk" and work on selective films from now onwards. As I have already committed to some projects, I will have to complete those, but afterwards, I don't want to work in every other film that comes by. I want to focus on the quality of work and give a new meaning to acting. By now, I have received a lot of appreciation for "Shikari" from the audience. Its exclusivity lies in depicting the Bangla culture in an extravagant manner along with the family values and romance. Overall, it's a "smart" film; nonetheless, the other films which were released were also well valued.
What was the experience like to be a part of the Indo-Bangla joint production?
I think it is rather reputable to be a part of such joint ventures on behalf of both the industries. Earlier, the teaser made a good impact on both the Bengals and now the film is doing good business. Even though the copyrights were bought from a Tamil film, it has been made so well that it was bound to appeal to the mass audience. I have garnered well recognition from the audience on the other side of the border as well. It's a matter of pride. In fact, both the Bengals have so much in common that the mutual relationship tends to be ever growing.
Could you elaborate on the shooting of this film?
The makers of the film feared whether I would show up on time for the shoot and whether I would be friendly with everyone on set. On the other hand, I was very concerned about the fact that whether I could meet the expectations of the producers or not and adjust myself with everyone. So I had to give it a 100 %, no compromises as the reputation of my nation was at stake. I forced my willpower alongside my enthusiasm and promised to give nothing but the best. Within a few days, I was able to prove myself through my work, and the shooting was smooth as silk.
You were lucky enough to have worked alongside all the popular actresses of our country. How was it like to work with your co-star Srabonti in "Shikari"?
She is a very sincere person. Not only when it comes to work, but also off-screen. She is rather dedicated towards her work. She has a good sense of balance when it comes to acting, she knows when to portray how much. Whenever she showed up on the sets, she was well prepared. It was an absolute pleasure working along with Srabonti, and I look forward to work with other talented artists beyond the border.
---
Permissions in this forum:
You
cannot
reply to topics in this forum